October 6, 2021
Mulligans Menudo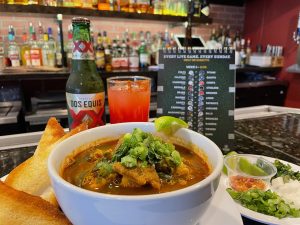 Tucson cook Vanessa Baker wasn't surprised when her 8-year-old son revealed that he wants to be a chef when he grows up. What he doesn't know is that he's the fourth generation in a family with culinary traditions steeped in tripe broth.
As I report in this week's Inside Tucson Business, Baker's longtime family recipe for menudo, with roots in Sonora, Mexico, started making local food news the very moment it landed on the new Sunday brunch menu at Mulligans Sports Grill. But no matter where they land on the issue of stomach lining as a morning and mid-day meal, hungry football fans have much to choose from on this chef-driven, scratch-based brunch menu.
Check out my story here and let me know your thoughts!