July 10, 2019
Bastille Day: Old Memories, New Traditions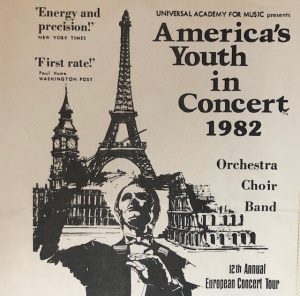 Thirty-seven years ago this week, I was preparing for my Bastille Day performance at the Notre Dame Cathedral in Paris.
This memorable moment in the City of Lights was part of America's Youth in Concert, an orchestra, band, and choir comprised of high school students from across the United States that toured Europe during the summer of 1982. I was a percussionist. I practiced for months before my audition. And when the notification came that I had made it, I realized that I would soon be performing in Carnegie Hall, in London and other European cities, and, yes, steps away from the altar inside the Notre Dame Cathedral. In Paris. On Bastille Day.
This stop on our 11-city tour was my introduction to French cuisine, culture, and, truth be told, Champagne. That we were all in our teens didn't seem to stop us as we sipped alongside the local celebrants later that evening at the base of the Eiffel Tower.
As I boarded the bus the next morning en route to concerts in Florence and Rome, my memories of croissants, baguettes, Camembert, and Brie went right along with me.
Thankfully there's a way to celebrate the traditions of Bastille Day in Tucson, and Coralie Satta, who hails from Marseille, has everything covered at Ghini's French Caffe.
This Friday and Saturday from 3:00 – 8:00 pm, her Le Jour de la Bastille will feature a special three-course menu with delicious options to choose from. Some of the dishes that caught my eye include the Soupe A L'oignon, Boeuf Bourguignon, and the Bleu Blanc Rouge Shortcake. Ghini's will also feature $6 French Mimosas all weekend long. You can make reservations by calling 326-9095.
It seems fitting that my first experience with French culture was during high school. That's because Coralie Satta and I went to high school together!
While the record isn't clear, it's entirely possible that we may have sipped some Champagne together as teens nearly four decades ago. Sorry, mom.
A votre sante!