October 25, 2019
What's Your Perfect Wine Blend?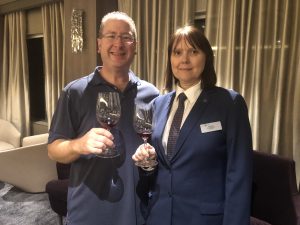 You have a pipette, a glass flask, and bottles of Cabernet Sauvignon, Merlot, Syrah, and Grenache. Your mission is to create what you think the perfect wine blend is from custom percentages of these varietals.
This was the mission, and guests on our culinary and cocktail cruise had the opportunity to blend their own wines under the instruction of Ivanna, our Celebrity Cruises sommelier!
Once the blendings were complete, I sat down with Ivanna and a few of our guests to see how their wines turned out.
Enjoy this fun interview!
Podcast: Play in new window | Download (Duration: 7:58 — 7.3MB)