October 26, 2019
Getting Craft Beer into Greeks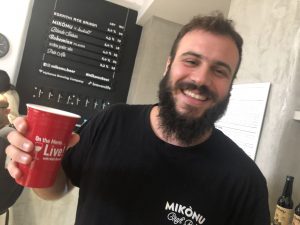 The last time I was in Europe two years ago, I didn't find as many craft brewers as I expected to. The beer scene was still very much dominated by Old World traditions with nary a pale ale or IPA to be seen. Fast forward to today and people like Angelos Feros are changing that.
This brew master's work at the Mykonos Brewing Company in Greece is attracting serious buzz. He's on a mission to "get craft beer into Greeks," and once I sat down with him to learn more about his plans, I wouldn't be surprised if his brews filled up his fellow Greeks and spilled onto the international stage. Could the U.S.A. be in his sights?
Enjoy my interview with Angelos!
Podcast: Play in new window | Download (Duration: 22:28 — 20.6MB)