October 28, 2019
Oh, that EVOO!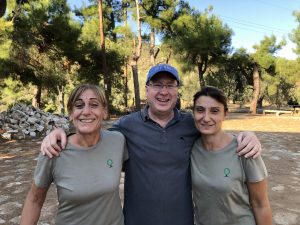 Everything I've learned about extra virgin olive oil came from time spent with Tom and Nancy Alfonso of Alfonso Gourmet Olive Oils & Balsamics, and when I told them I was going to Greece, they instructed me to visit a local olive mill.
Ever the obedient student, I did just that!
The adventure began with a tour of the Kotsonis Estate Company, an 8,000-tree olive grove that has produced olive oil in this region since 1900. Following the tour, we sipped some of their best, a product called 3,000 BC, while enjoying a multi-course lunch with wine pairings.
Enjoy my interview with sisters Antigoni and Mando Kotsoni who shared a beautiful story about their family business.
Podcast: Play in new window | Download (Duration: 16:09 — 14.8MB)