October 29, 2019
Cocktail Class is in Session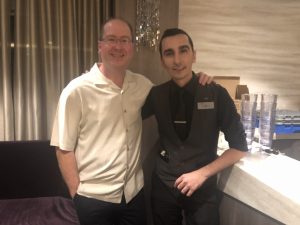 New York Sour. Paper Plane. French Fantasy.
Guests that were part of our culinary and cocktail cruise aboard the Celebrity Edge had the opportunity to make these libations under the instruction of Tas, the ship's senior bartender, during our private mixology session.
Frivolity ensued the moment that the ice cubes were dropped into the shaker as we learned about things like dirty ice, names of glassware, and how to scientifically thin out Blue Curacao.
Enjoy my interview with Tas who definitely brought a sense of adventure to the experience!
Podcast: Play in new window | Download (Duration: 10:37 — 9.7MB)