January 23, 2020
Chef Chic's New Digs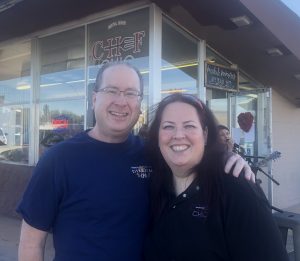 Whenever the ribbon is cut at a new restaurant, you can count on me to grab the first interview with the owner.
Like today.
I was in the presence of royalty when I caught up with Wendy Gauthier, Tucson's Iron Chef, just seconds after she cut the ribbon in front of a crowd of fans who gathered outside her new eatery, Chef Chic!
Enjoy my conversation with Wendy as she talked about the concept behind her new restaurant, her plans to host an Iron Chef Dinner there in March, and her thoughts about a winning strategy to defend her Iron Chef title this summer!
Podcast: Play in new window | Download (Duration: 3:11 — 2.9MB)