July 25, 2019
A Taste Bud Time Warp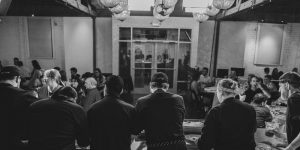 What is it about the early 1800s that make its culinary traditions real and relevant to us today?
How can the 1950s find context in today's foodie lexicon?
And what about those glorious 1980s? What was happening in the food-sphere that pulled our attention away from MTV, if only for a minute?
Get ready to transport your taste buds back in time this Sunday at the Carriage House when nearly 30 local chefs come together for a collaborative dinner that will pay tribute to the culinary trends of bygone ages.
Sponsored by the Gastronomic Union of Tucson, affectionately known as GUT, the Time Warp Dinner will begin with a welcome cocktail, followed by five distinct and era-inspired moments with companion beverages.
Hors d'œuvre (1950's)
Salmon mousse, chicharron, cucumber kimchi, salmon roe
Rumaki – brûlée pork belly, chicken liver mousse, Asian pear
Coronation chicken deviled egg
Ceviche aspic, avocado mousse, Tajin shrimp
First Course (1970's)
Not Your Grandma's Cheese Ball
spice whipped cream cheese + english cheddar, tomatillo + summer herb coulis,
crispy butter toasted croutons, asiago crackers
Second Course (1980's)
Pablo Prudhombre
Blackened Sea of Cortez Cabrilla, maque choux terrine with Southwestern accent,
lemon butter sauce, rocket
Third Course (1960's)
Mesquite Beef Cheek Bourguignon
lingerie potatoes, carrot confit, sweet onion puree,
truffle glazed mushrooms
Fourth Course (1810's)
Sonoran Mille Feuille
mesquite puff pastry, prickly pear pastry cream quince, pomegranate gel,
candied orange, bahidaj sitol meringue
Tickets for this epic July 28 feast are $75 each and can be purchased here!