March 14, 2019
A Passport for Craft Spirit Enthusiasts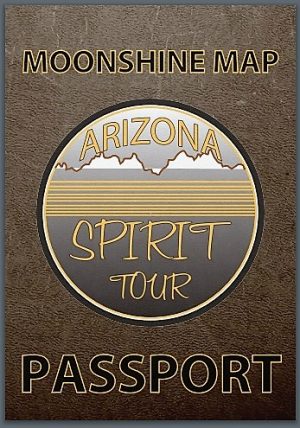 For many years dating back to the early 1990s, I was a registered lobbyist in Washington, D.C. My office
was steps away from the U.S. Capitol and, in full disclosure, I can tell you that every lobbyist stereotype applied,
from smoke-filled rooms to multiple martini lunches.
#guiltyascharged.
But what happens when the issues for which you're pursuing legislative relief mirror the spirituous tools
of the trade themselves?
Fast forward to 2019 and meet Deborah Patt, co-owner of Desert Diamond Distillery in Kingman and a
member of the Arizona Craft Distillers Guild.
Patt understands the critical need for the Guild's voice at the Legislature to represent the state's craft distilling industry, and she's developed a program with her statewide colleagues that seeks to accomplish three things – raise money for the Guild's important work, drive business to its member distilleries, and expose consumer palates across Arizona to the volume and variety of spirits being distilled here.
They're calling the program a "Moonshine Map and Spirit Trail, A Passport to Arizona Spirits," and it has all the makings for one heck of a series of road trips.
For $10, you can get a passport featuring a dedicated page for each participating distillery. Bring the passport to a distillery and get that respective page stamped with no purchase necessary. When you collect all of the stamps, just send in the completed passport and you'll receive a special gift, ranging from company merchandise to spa packages to hotel stays.
To make it even more irresistible, when you bring your passport to a participating distillery, you'll also get 10 percent off bottle purchases.
Distilleries that are currently participating in the passport program are Hamilton Distillers (Tucson),
Thunder Canyon Brewstillery (Tucson), Elgin Distillery (Elgin), Adventurous Stills (Tempe), CaskWerks Distilling (Tempe), San Tan Brewing and Distilling (Chandler), OHSO Brewery and Distillery (Scottsdale), Cellar 433 (Jerome), Grand Canyon Brewing and Distilling (Williams), and Desert Diamond Distillery (Kingman).
Additional distilleries are expected to hop on the map next year, but the 10 charter participants are all you need now to get your road trips underway.
You can purchase your passport at participating distilleries or online right here.
So what's Patt been enjoying these days from her own personal portfolio?
"Our Barrel Reserve, a rum that's been aged for three years that works well in a cocktail, like an Old Fashioned, as well as neat, all by itself," she said. "And honestly, and I know it sounds odd, but I love it with root beer."
I love this lady, and I'll be hitting the road to Kingman shortly… passport in hand!