February 24, 2021
Getting Saucy in National Sauce Month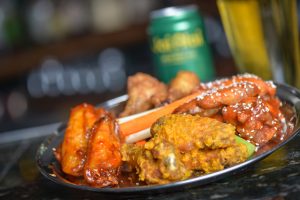 French chef Fernand Point once said, "In the orchestra of a great kitchen, the sauce chef is the soloist." That must mean that local chef C.J. Hamm will take center stage during National Sauce Month in March.
In the current edition of Inside Tucson Business, with chicken wings on my mind, I flew over to the northwest corner of Golf Links and Harrison Roads to sit down with the sauciest wingman I know. And with 23 varieties of wings on his menu with house-made sauces and rubs, he certainly wasn't at a loss for words!
Check out my story here and let me know your thoughts.