February 10, 2021
A Hogg in the House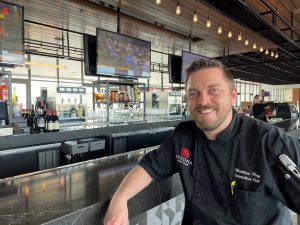 Hand-shucked and char-grilled oysters with chorizo and queso Chihuahua. Blackened tuna mignon with banana-jalapeno fried rice. Ribeye steak with a Burgundy mushroom and shallot ragout.
Five-star resort in the Foothills? Nope. These dishes were spotted just steps away from the north endzone at Arizona Stadium, and the buzz they've created suggests there's a hogg in the house — Chef Matt Hogg, that is.
In the current edition of Inside Tucson Business, I caught up with this native Texan turned Tucsonan to see how he's reimagined stadium club dining at the new Arizona Sands Club.
Check out my story here and let me know your thoughts.