May 3, 2014
Live from Matt's back yard!
A neighborhood BBQ kept Matt Russell close to the pit this weekend, so we figured we'd do this week's show live from his own back yard!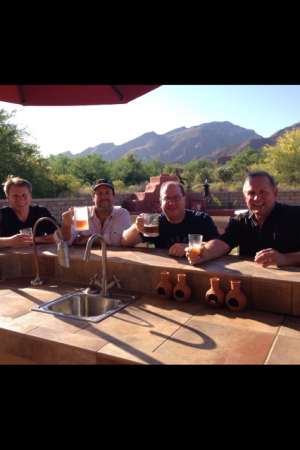 Celebrity co-host Scot Litteer of Litteer Films got things going with a review of some seasonal suds that he's been enjoying lately, and he joined Matt in a tasting of some spectacular brews. We were then joined by Tony Poe of Fairway Mortgage, who had everything you needed to know about this year's Centurion's Party at Rillito Racetrack Park. John Brauneis of Gourmet Aire stopped by as well to talk about the most romantic date in Southern Arizona, which includes chauffeured transportation to the airport, a private aerial tour of the Tucson mountains at sunset, and a delicious dinner at one of Tucson's great restaurants.  We also caught up with Chef Tiki Tim of Fini's Landing, who was busily preparing for a Cinco de Mayo bash!
Podcast: Play in new window | Download (Duration: 48:27 — 13.9MB)