August 18, 2012
Chef Danny Perez & Julie Polk from Catalina BBQ Co.
If ever there was a show for true 'cue enthusiasts, this was it…coming to you live from the Catalina BBQ Co. at the JW Marriott Starr Pass Resort & Spa. Our celebrity co-host was Alan Zeman, the Fuego Daddy himself, who kicked things off talking about his latest culinary travels.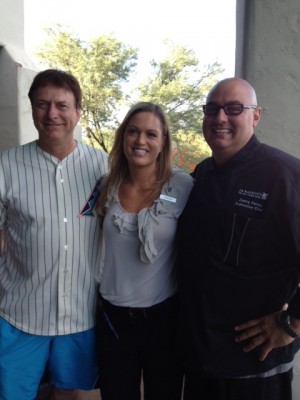 Matt and Alan then welcomed Chef Maria Mazon from Boca, who had information on an exciting tequila and taco tasting that she is planning for August 24. Beth Cooney joined the conversation as well, all the way from John Ascuaga's Nugget Resort Casino in Nevada, updating us on this year's Nugget Rib Cook-off. Our featured guests were Chef Danny Perez and manager Julie Polk from the Catalina BBQ Co., who contributed to the life-changing nature of this special broadcast. Fellow foodies, we know good BBQ, and this is BBQ as it was intended to be. We tasted some killer smoked wings, onion rings the size of large donuts, a mac-n-cheese that has come to redefine that staple comfort food, and, of course, ribs…which were among the best we've had.
Podcast: Play in new window | Download (Duration: 51:00 — 14.6MB)