May 15, 2019
Buckmaster Show Takeover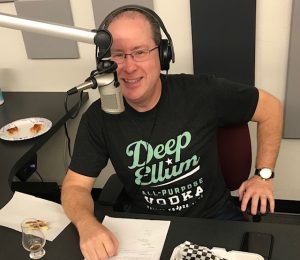 I was honored to occupy Bill Buckmaster's chair today, as guest host of the Buckmaster Show, while Bill was away on vacation. The full hour was dedicated to the dynamic food and beverage scene in Southern Arizona!
My guests included Terry Kyte of the Tucson Originals who talked about the important work of locally owned and independent restaurants, Brennan Sanders of Aridus Wine Co. who got us current with his newest releases while sharing some hot news about a national honor that was recently conferred on this Southern Arizona winery, Vlad Novokschenov of Town Under Black Distillery who reserved his first live radio interview about his blue corn and cacao husk whiskey for me, and Brandi Romero of Kiss of Smoke BBQ who turned the final segment of the Buckmaster Show into the Pitmaster Show. Listen as she shares the secrets behind her proprietary wood blend!
Thanks for letting me sit in the big chair, Bill. You can go on vacation whenever you want!
Podcast: Play in new window | Download (Duration: 54:22 — 49.8MB)