November 27, 2019
My Six Hours at Franklin Barbecue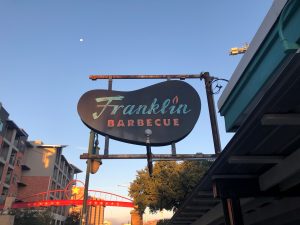 Saturday, November 16. Austin, Texas. Corner of Branch and 11th Streets. 7:18 am. 37 degrees.
This is how my journal for this now historic day began in chronicling an hours-long journey on which I embarked alongside hundreds of my fellow bold, and cold, barbecue enthusiasts. A bucket list item for some, just another weekend lunch for others. But for me, it was a portrait of humanity that told more stories than I could ever tell myself.
I've been to Franklin Barbecue. And I'm a better man because of it.
I called Franklin months before my departure with an inquiry that they likely field on a daily basis. It was the first order of business I needed to conduct once my wife and I decided to plan a trip to the Lone Star State's capital city. Before the hotel was booked, before the airline tickets were purchased, I must know. What time do we need to be in line to effectively guarantee that there will still be food left by the time we snaked up to the counter?
Almost robotically, yet with a subliminal sense of gratitude for the commitment that I would soon be making, the person on the Austin end of the phone strongly suggested that I join the line by 7:30, three and a half hours before their doors open for lunch.
OK, then. I shall do what I'm told.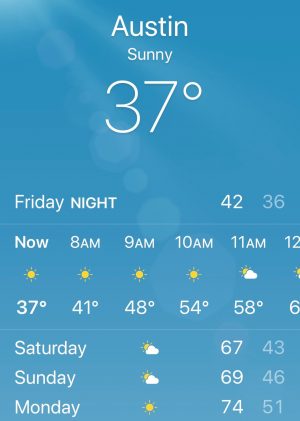 Early on the morning of November 16, with a chill in the air that seemed unseasonable to this Sonoran Desert rat, I decided to get a jump start on the day with plans to arrive on the smoked meat scene a little early. My wife chose to sleep a bit longer in the warm and comfy confines of our room at the Wyndham Garden Inn and promised to meet me later in the Franklin line. Being married to me for 28 years has earned her passes like this.
I called for an Uber and was greeted minutes later by my driver, Kevin. Once he activated the trip on his mobile device and learned what our destination would be, he said, almost under his breath, "I can make you some barbecue at my house and you don't have to stand in line; just show up when it's ready!" Respectfully passing on his kind invitation, I settled in for the short ride when I suddenly saw plumes of smoke outside the rear right window of Kevin's Chevrolet Cruze.
I knew immediately what that meant. We had arrived at the corner of Branch and 11th. It was 7:20, a full ten minutes early, and I felt like I had already won.

From what I know about Franklin, ten minutes can make the difference between leaving lunch fat and happy and spending a sad and brisket-less day in Austin. So I fist-bumped Kevin with thanks for the role he played in my big day and out of his Chevy I hopped.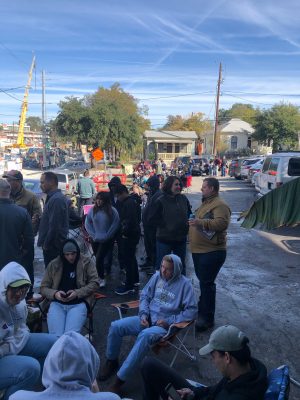 And that's when I saw scores of hungry people already in line. I counted 75 of them, most of whom were wrapped in blankets, crowned with beanies, and clutching Venti cups of coffee. I took my place in line in a camping chair that was graciously provided by the Franklin team, sans blanket, beanie, and Venti, with a shivering hope that those in front of me weren't as hungry as I was.
That was at 7:20. At 7:32, my fingers had frozen. But those first 12 minutes in line revealed an unwritten code of Franklin line-standing conduct that allowed people to leave their chairs and grab cups of coffee and chorizo breakfast tacos at Franklin's food truck around the corner. With a wink to the standers in front of and now behind me, suggesting that my absence would be brief, I raced around the corner in pursuit of hot coffee and tacos. The feeling returned to my fingers at 7:41.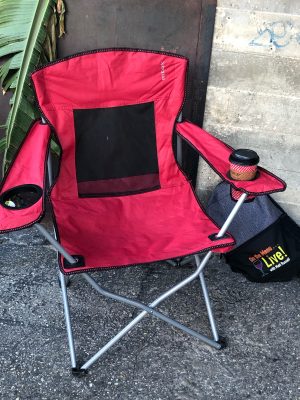 When I returned to my chair at 7:45, no fewer than 100 people were parked in chairs behind me. That's at least 176 people, including the first guy in line who arrived at 4:50 that morning and the many, many more who arrived later, all waiting in the cold for barbecue at a joint that wouldn't open for more than three hours.
I felt like I was a member of a secret society. We were all there with a shared passion and barbecue world view. We weren't competing with each other for a space in line or preparing to fight over what would be a rapidly diminishing supply of ribs. We'd become united. I even heard the unmistakable sound of Facebook friend request notifications pinging all around me. Suddenly being 76th didn't seem so bad.
At 8:00, in a move that maximized the authenticity of the moment, a regionally inspired soundtrack of country western classics started to pulse through the outdoor speakers. And not long after Marty Stuart started rocking his billy, a gentleman re-claimed his space in the line of BFFs with a 12-pack of Lone Star Beer and a sense of confidence that it was, indeed, 5:00 somewhere.
Humanity continued to unfold over the next two hours. I watched a woman in front of me make impressive progress on a blanket that she was knitting for a friend while sharing her perspectives on presidential impeachment with people who were complete strangers earlier that morning. A guy about 25 feet behind me dazzled those around him with a series of magic tricks performed on a stretched out sleeping bag. For a minute I thought he made those Lone Star Beers disappear. Then it became obvious that Mr. Five O'Clock Somewhere and his allies made them vanish naturally.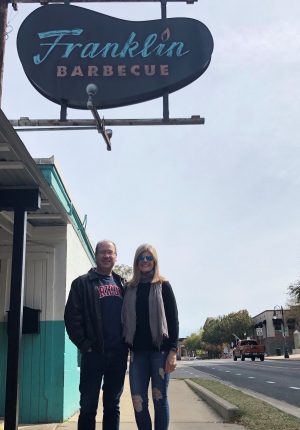 The clock striking 10:00 marked my wife's arrival. She brought me a beer to redeem herself for missing out on my morning as I wrapped my thawed arms around her in a loving welcome to my new world.
As promised, the Franklin doors swung open at 11:00 to thunderous applause. But my wife and I didn't arrive at the counter to order until 12:20. With only ten or so tables inside, this made for a slow crawl to the finish line, and crawl we did with the realization that I had stood in line for five hours.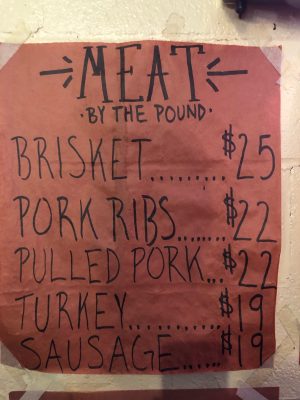 Everything on the Franklin menu is sold by the pound and it's all hand cut on demand before your eyes. We ordered various weights of brisket, ribs, pulled pork, turkey, and coleslaw and watched as the pit master plated up our feast with four companion slices of Wonder Bread.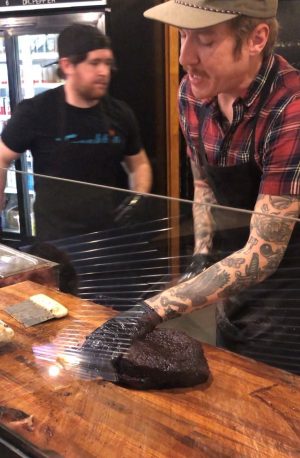 Once his work was done, he held up the platter and asked, "How does this look?" I initially thought he was simply demonstrating pride in his craft. I ultimately realized that it was a strategic question. This would be the time to tell him if we didn't think it was enough food. There's no turning back once you walk away.
We walked away satisfied with our order, slid into two empty chairs at a community table, dispensed with the dialogue, and spent nearly an hour quietly dismantling the pit master's handiwork with recklessness.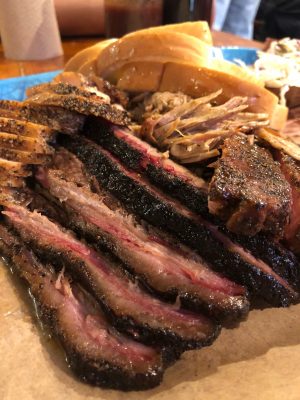 I'm not a food critic and I don't write reviews. I'm in the storytelling business, and suffice it to say that stories about the smoked meats at Franklin Barbecue will be told for generations. The experiences that I had during my six hours at this place, with the hundreds of people who came together as actors in this Saturday story, are the answer to the question that I'm still being asked.
"Was it worth the wait?"
Absolutely and unequivocally yes. Would I do it again? Probably. But one thing's for sure. I know that I'm always welcome at Kevin's house if the line's too long.