June 28, 2022
Virginians Seeking Victory: Iron Chef Tucson 2022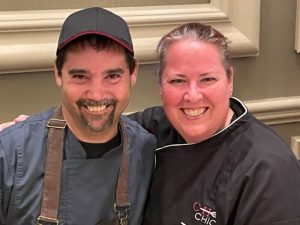 It's hard to say with certainty that the Wolverines of West Potomac High and the Eagles of Thomas Edison High are rivals in Alexandria, Virginia, but the real rivalry will take center stage in Tucson next month when two of the neighboring schools' alumni battle it out for the title of Iron Chef Tucson.
In my inaugural story for Tucson Foodie, I share the histories of two local chefs whose journeys have taken them from the same neighborhood in Northern Virginia to the same street in Tucson. It's either one of the greatest coincidences of our time or stalking at its best. Either way, expect this to be a battle of epic magnitude on Saturday, July 30 when Casino Del Sol's Grand Ballroom will be transformed into Kitchen Stadium.
Check out my story here and let me know your thoughts!