May 20, 2021
A Sonoran-Mediterranean Culinary Connection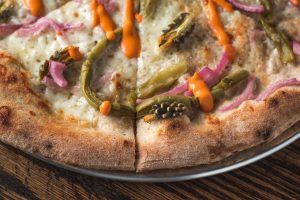 All it took to connect the Rillito River to the Mediterranean Sea was a shared respect for Old World wisdom and an abiding love of hometown, plus a little inspiration from Uncle Joe.
In this week's Tucson Weekly and Inside Tucson Business, I reveal the story behind this confluence of culinary cultures now on display at Zio Peppe, a new restaurant co-owned by Tucson natives and longtime chefs Mat Cable and Devon Sanner. The name of the eatery was inspired by Cable's Uncle Joe, Zio Peppe in Italian, who opened Tucson's first Sicilian pizzeria four decades ago.
Check out my story here and let me know your thoughts!