June 24, 2019
An Ode to a Lovable Rogue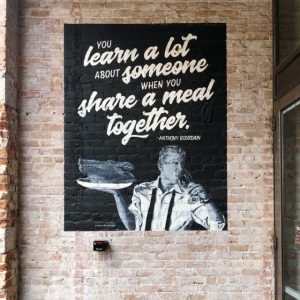 Iconic foodie, adventurist, and best-selling author Anthony Bourdain would have celebrated his 63rd birthday tomorrow. Though his passing last year continues to take its toll on many a Tucson tastemaker, my friends at Ten55 Brewing and Sausage House will be marking the day with an ode to this man whom the Chicago Tribune once called "a lovable rogue."
Inspired by Bourdain's widely chronicled love of the Provincetown Seafood Cookbook, Chef Zach Ghidotti will be serving a Portuguese kale soup that he created with wisdom drawn from one of the recipes in the book.
The star of the soup will be a hand-made linguica sausage from the gifted hands of Tucson butcher Ben Forbes of Forbes Meat Company. It will be served with fresh bread made by Tucson baker and international carbohydrate celebrity Don Guerra of Barrio Bread, who used some of Ten55's spent grains in his doughy diapason.
A portion of the soup's sales will support suicide prevention awareness at the National Alliance on Mental Illness Southern Arizona, and some of Bourdain's most beloved broadcasts will be screened at Ten55 throughout the day as well.
This Ghidotti-Forbes-Guerra collaboration is the kind of thing that Bourdain would have loved. He often said that "you learn a lot about someone when you share a meal together," and when tastemakers share their gifts so that we can share a meal, the true spirit of togetherness shines.
Let's get together for some Portuguese kale soup on June 25 and raise a few pints to this lovable rogue!