June 21, 2019
Catching up with a Crowned Heads Celeb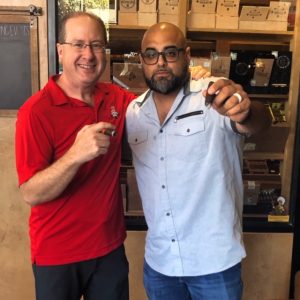 Brothers and sisters of the leaf across Tucson convened at Jerry's Cigars this week for the highly anticipated release of the Las Calaveras 2019 cigar from Crowned Heads!
Jerry's special guest was Crowned Heads national sales manager Miguel Schoedel, and I caught up with him for a quick interview to learn about this hot new stick as well as what's behind the big and bold brand that is Crowned Heads.
Listen to what he had to say, and what Tucson restaurant he dined at on his quick visit to the Old Pueblo!
Podcast: Play in new window | Download (Duration: 6:04 — 5.6MB)