October 13, 2021
Buckmaster Show Takeover!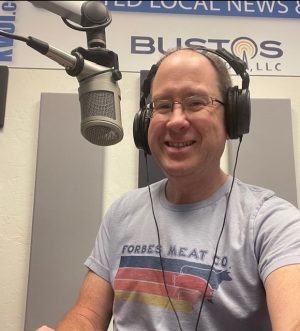 I was honored to sit in today for the vacationing Bill Buckmaster as guest host of the Buckmaster Show!
Joining me as celebrity co-host was Chris Squires of Ten55 Brewing Company who got us current on his newest selection to commemorate the return of the Tour de Tucson…The El Tour Blood Orange IPA!
Chris and I also welcomed Susan Fulton and Mary Steiger, of Gourmet Girls Bakery/Bistro, who rolled out their Pumpkin Palooza portfolio; Stephen Paul, of Whiskey Del Bac, who shared all the deets on the distillery's upcoming 10th anniversary party while pouring samples of his special anniversary release; and Chef Travis Peters, of The Parish, who teased us with a few dishes that he expects to be on the menu when his newest restaurant, The Delta, opens soon!
As we sipped Chris' beer and Stephen's whiskey, we went head-first into Travis' dishes, including a giant fried pork rind with a spicy mint chimichurri, a bone-in short rib sandwich with an andouille mayo and puffed beef tendons, and duck fat-fried brioche donuts filled with foie gras cream.
This was absolutely the most delicious hour on radio, and you can listen to it in its entirety right here!
Podcast: Play in new window | Download (Duration: 54:05 — 49.5MB)