March 14, 2022
BATA-boom!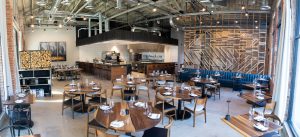 While many of us learned early in life about the consequences of yelling "fire" in a crowded building, the exclamation has taken residence in the formal and flame-licked lexicon of downtown Tucson's hottest new restaurant.
BATA, the newest concept from the crew that brought us Reilly Craft Pizza & Drink, is inspired by fire, and all of the nearly 20 dishes on the menu are touched by fire in some way. My column in this week's Inside Tucson Business tells a story about these flames and how the Fenton family is igniting them at a beautifully re-imagined 1930s supply warehouse.
Check out my story here and let me know your thoughts!