May 29, 2019
Where Love Lives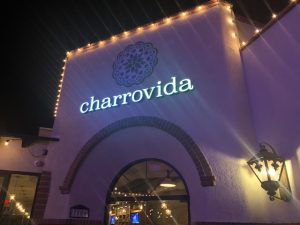 There was great wisdom in the prescription by Greek physician Hippocrates when he said, "Let food be thy medicine, and medicine be thy food." Though he spoke these words thousands of years ago, their relevance remains at the newest restaurant to come from the Flores Concepts family, Charrovida.
I sat down with Ray Flores, the Chief of the Charrosphere himself, at a pre-open dinner last night. And just seconds into his story about this new concept, it was clear to me what he and his team were collectively embracing.
This is a place where love lives.
This love story weaves its way from the spirit of Salamanca, Spain, where family and cultural traditions were forged by Old Spain's proud charros, to the soul of Sonora, Mexico, where inspiration was drawn from the blessings of the land. Food was life. Food was love. And food was the connection to health.
You might say that Charrovida's thoughtful menu is a modern-day prelude to this love story. Its Food Por Vida (Food for Life) promise allows us the opportunity to love on ourselves, and our families and friends, just a little bit more. The chapters of this story highlight the benefits of plant-based eating, the ideal and sustainable proteins and their intentional preparations, the natural fats that our hearts crave, the most suitable of sweeteners, and other examples of foods that maximize the body's inherent potential for self-healing.
The chapters of this love story are conveniently organized by category, including:
Viva Vegetales tapas (try the chile-charred cauliflower al pastor with grilled pineapple)
Comerjuntos for sharing (try the tableside avocado hummus with plantain tostones)
Bowls y Mas (try the frida salad with arugula, watermelon, and quesa frida)
Entrees (try the salmon de la costa with charred Brussels, hummus, pepitas, and chimichurri)  
Dulces y Cafe (try the yes we did with vegan and gluten-free chocolate chip, peanut butter, and sugar cookies with ice cold almond milk)
Joining this loving lineup are a host of side dishes, organic and biodynamic wines, beers, cocktails, and a colorful array of alcohol-free refrescos.
You can take great comfort knowing that a group hug awaits you at the place where love lives.
Located in Casas Adobes Plaza on Ina and Oracle Roads, Charrovida opens its doors to the public today and will serve guests daily from 10:00 am – 9:00 pm.
Viva Vida!