January 24, 2019
A Dos for Dillinger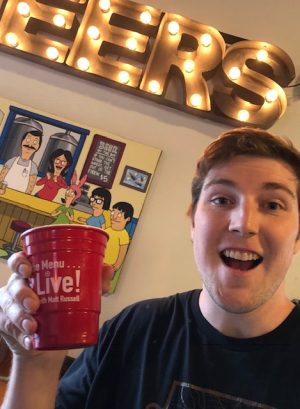 This is Aaron.
Aaron Long.
And Aaron looks happy, doesn't he?
He's part of the leadership team at Tucson's Dillinger Brewing Company and he has every reason to smile. The brewery will be celebrating their second anniversary on February 2, from 12:00 pm – 10:00 pm, with a release of what sounds like some spectacular suds.
* An imperial maple porter
* A barrel-aged imperial stout
* A mixed fermentation barrel-aged saison
All of that barreling suggests that Aaron and his brewery business partner Eric Sipe are whiskey enthusiasts as well, which I learned when chatting with them in their taproom recently over a flight of brews.
For Aaron, his call is typically the mesquite-smoked Whiskey Del Bac Dorado from Hamilton Distillers.
For Eric, it's the Lagavulin 16, the Bernheim Wheat, and the Blanton's Bourbon.
But I digress. The second anniversary bash is all about the beer, and when you add live entertainment and grub served up by the Substance Coffee Diner Food Truck, you've got yourself a blowout that's decidedly Dillinger-worthy.
Just don't miss the triple-decker grilled cheese sandwich from the Substance crew, stacked on buttered, toasted, and Parmesan-crusted French bread with cheddar and Gruyere cheese. You won't only thank me for that tip, you'll shower me with gifts.
Happy dos to Dillinger!